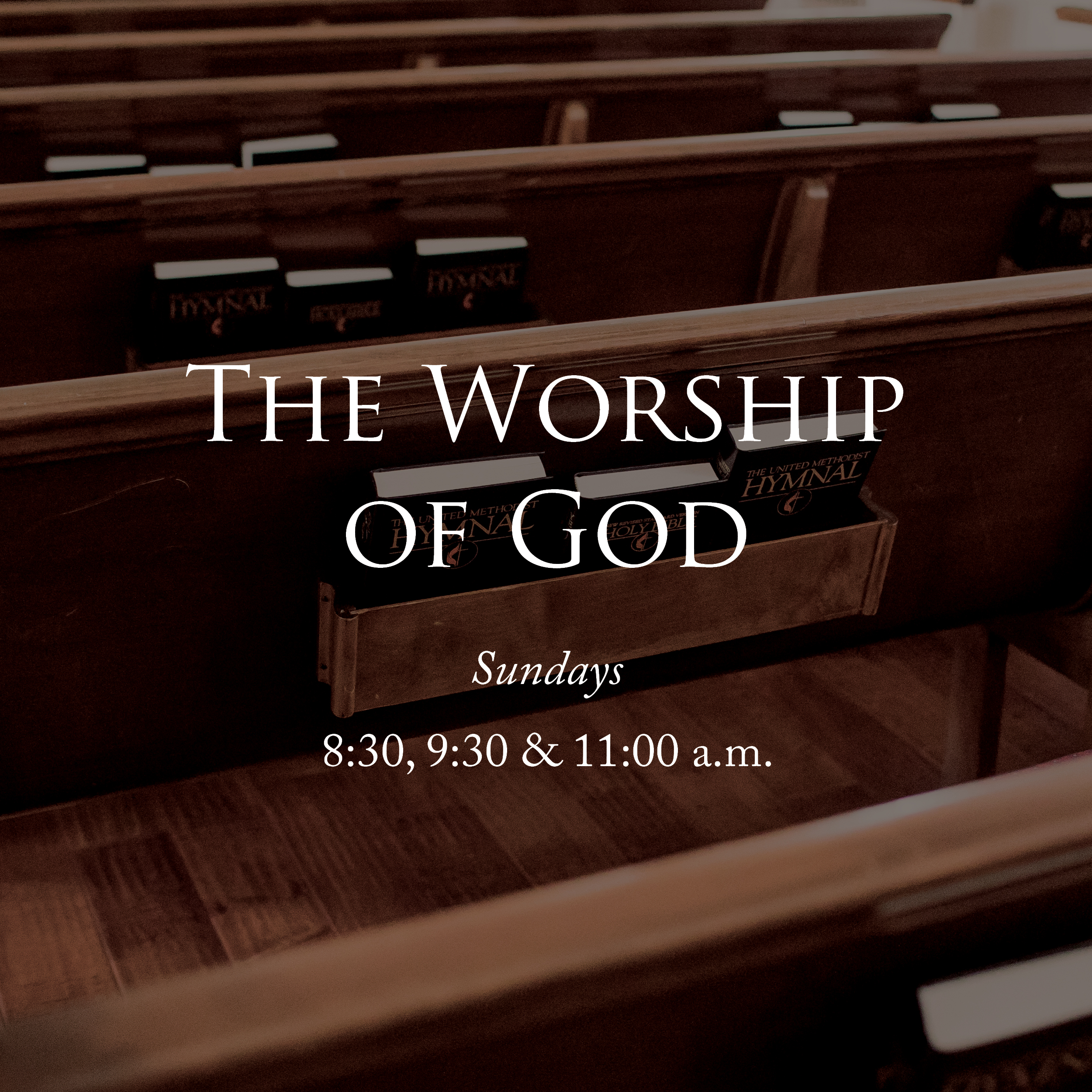 The Worship of God
September 26, 2021
This service goes LIVE on Sundays at 8:30, 9:30 and 11:00 a.m.
---
* Please stand as you are able.
The congregation speaks the text in bold type.
* Please stand as you are able. | The congregation speaks the text in bold type.
The flowers on the altar are given to the glory of God in loving memory of Richard H. Long, by Mrs. Richard H. Long and Cathy and David Long.
GATHERING
The Prelude
Prelude on "Rhosymedre" | Ralph Vaughan Williams
Joe Russell, organist
The Welcome and Opening Prayer
Martha Aenchbacher
The Introit | 9:30 and 11:00 a.m.
"Glory to God" | traditional Peruvian
Sung by the Wesleyan Youth Choir
PRAISE & THANKSGIVING
*The Hymn
UMH 398 "Jesus Calls Us" | GALILEE
*The Affirmation of Faith
"We Belong to God" | Steve Garnaas-Holmes
We belong to God, creator of all that is and all that is to come, abundant provider of the gifts in this life and the gifts in our own hearts. It is God alone who gives life, who is generous beyond measure with grace and blessing. We follow Christ, whom God sent to teach and heal, to show us a new way of living, with love and trust and courage, with joy and generosity. In this faith Jesus gave of himself, even his very life. He was crucified and buried; yet God raised him from death, and he lives among us, and grants his spirit to us. We live by that Holy Spirit, and entrust ourselves to the Spirit's guidance and empowerment. As members of the church, the Body of Christ, we devote ourselves to lives of love, rejoicing in the power of forgiveness, the reality of resurrection, and the mystery of eternal life. Amen.
*The Passing of the Peace
The Welcoming of New Members | 9:30 a.m.
The Prayers of the People and the Lord's Prayer
Our Father, who art in heaven, hallowed be thy name. Thy kingdom come, thy will be done, on earth as it is in heaven. Give us this day our daily bread, and forgive us our trespasses, as we forgive those who trespass against us. Lead us not into temptation, but deliver us from evil, for thine is the kingdom and the power and the glory, forever. Amen.
The Hymn | 9:30 & 11:00 a.m.
UMH 396 "O Jesus I Have Promised" | ANGEL'S STORY
Stanzas 1 and 4
During the singing of the hymn at 11:00 a.m., children in grades K-2 are dismissed through the front, lectern side doors to attend Children's Church. They can be picked up at the conclusion of worship on the third floor.
The Offering and Offertory Anthem
8:30 a.m. "There is a Redeemer" | arr. Joel Raney
Greg Kirby, piano
9:30 and 11:00 a.m. "Create in Me a Clean Heart" | Andrea Ramsey
Sung by Wesleyan Youth Choir
Create in me a clean heart O God, and renew a steadfast spirit, O my God. Do not cast me away from Your presence. Do not take Your Holy Spirit from me. Restore the joy of Your salvation, and uphold me by Your generous Spirit. (Psalm 51: 10-12)
*The Doxology
Praise God from whom all blessings flow; Praise God all creatures here below. Alleluia! Alleluia! Praise God the source of all our gifts; Praise Jesus Christ whose power uplifts. Praise the Spirit, Holy Spirit, Alleluia! Alleluia! Alleluia!
PROCLAMATION
The Scripture
Matthew 14:28-29
The Message
"A Memorable Walk" | Chuck Hodges
RESPONSE
Hymn of Preparation | 8:30
a.m.
"As We Gather at Your Table | BEACH SPRING
Printed on the communion handout
The Sacrament of Holy Communion | 8:30 a.m.
*The Hymn | 9:30 & 11:00 a.m.
UMH 430 "O Master Let Me Walk with Thee" | MARYTON
O Master, let me walk with thee in lowly paths of service free;
tell me thy secret; help me bear the strain of toil, the fret of care.

Help me the slow of heart to move by some clear, winning word of love;
teach me the wayward feet to stay, and guide them in the homeward way.

Teach me thy patience; still with thee in closer, dearer company,
in work that keeps faith sweet and strong, in trust that triumphs over wrong;

In hope that sends a shining ray far down the future's broadening way,
in peace that only thou canst give, with thee, O Master, let me live.
*The Benediction
"With Love We Go Upon Our Way" | OLD 100th
With love we go upon our way to learn of love and peaceful ways.
To grow in spirit, heart, and mind, and be a light to humankind.
*Postlude
"Fanfare" | William Mathias
---
Steeple
Give Online
Thank you for your generous and sacrificial support of the mission of our church by giving.
Dave Walton |
You can also give by placing a check in the mail to
Athens First UMC
P.O. Box 1109
Athens GA, 30603
Please make all checks out to Athens First United Methodist Church.
Text-to-Give
Text-to-give allows you to give using your cell phone. This is a safe and easy way to place your offering from your home or pew.
Text "give" to 706-471-1127 and tap on the link you receive.
Select fund and amount and click "Submit".
Fill out payment information and you're DONE!