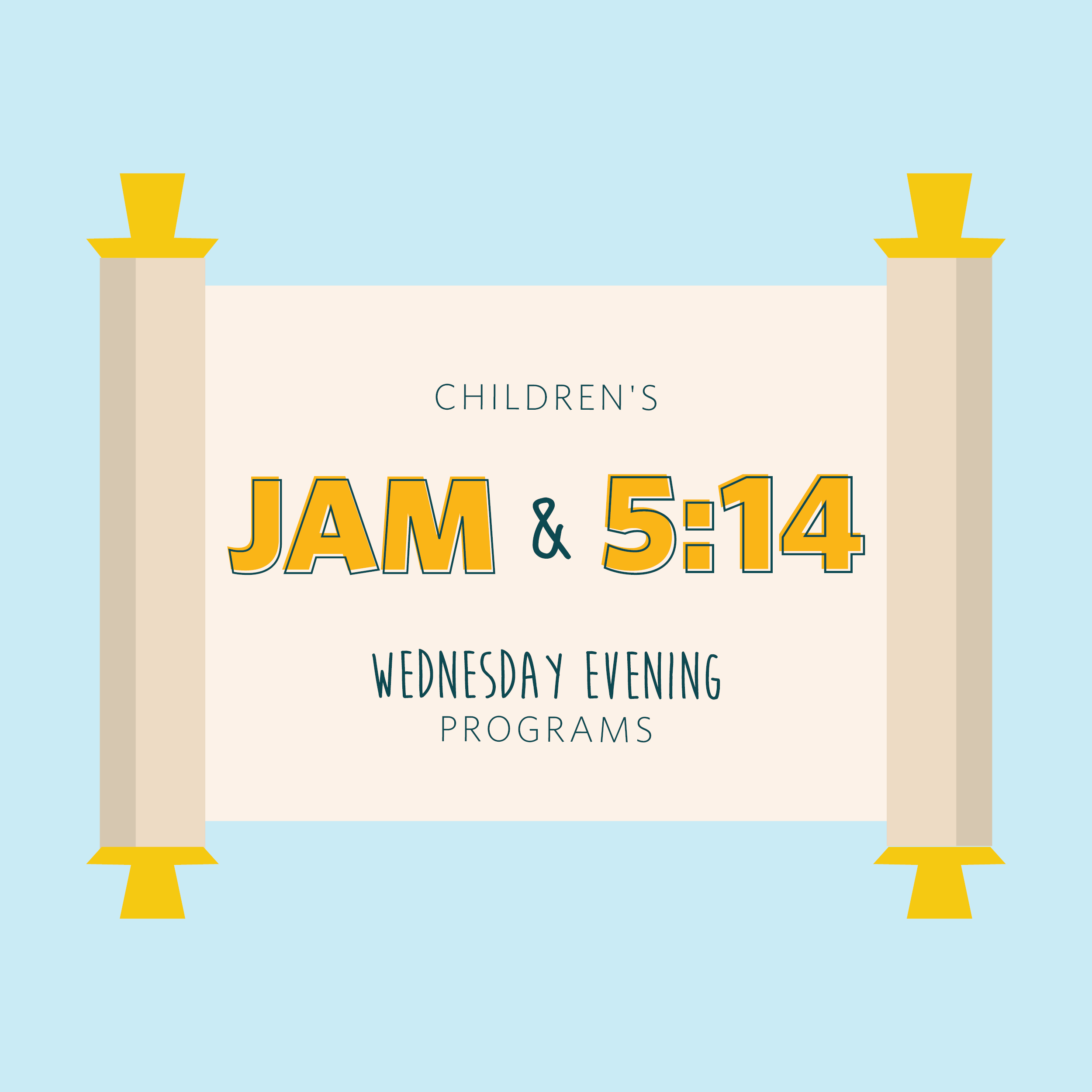 Wednesday Evening Programing
JAM & 5:14 Wednesday Evening Program
Join us for a fun-filled night of fun, fellowship, and faith exploration for all ages! The schedule for Wednesday Evenings is as follows:

Wednesday Evening Schedule

5:00-5:45 p.m. | Children's Choir (3s-Grade 4)
5:45-6:15 p.m. | Dinner in Hancock Hall (Registration Required)
6:15-7:00 p.m. | Parent Small Groups, 5:14, JAM
7:00-7:15 p.m. | Pick up in the Gym
4:00-8:00 p.m. | Nursery Care for Infants-Age 4

For Children in Kindergarten-Grade 4: Our elementary-aged children are invited to participate in 5:14 to come explore their faith through Bible stories and engaging activities.

For Children Ages 2-4: Our 2s, 3s, and 4s are invited to participate in JAM (Jesus and Me), a time for children to explore stories of the Bible through lessons and hand-on activities, from 6:15-7:00 p.m. in Room 141 on the Nursery Hallway. Children can be picked up in the gym.

For Children Under 2: Nursery care is available for children 4 and under from 4:30-8:00 p.m. for those participating or serving in our Wednesday Night ministry opportunities.

Parents are invited and encouraged to join a small group during this time! Visit the link below to learn more about the small group offerings on Wednesday nights!
Parent Small Group Opportunities
Jennifer Golden, Assistant Director of Children's Ministry |