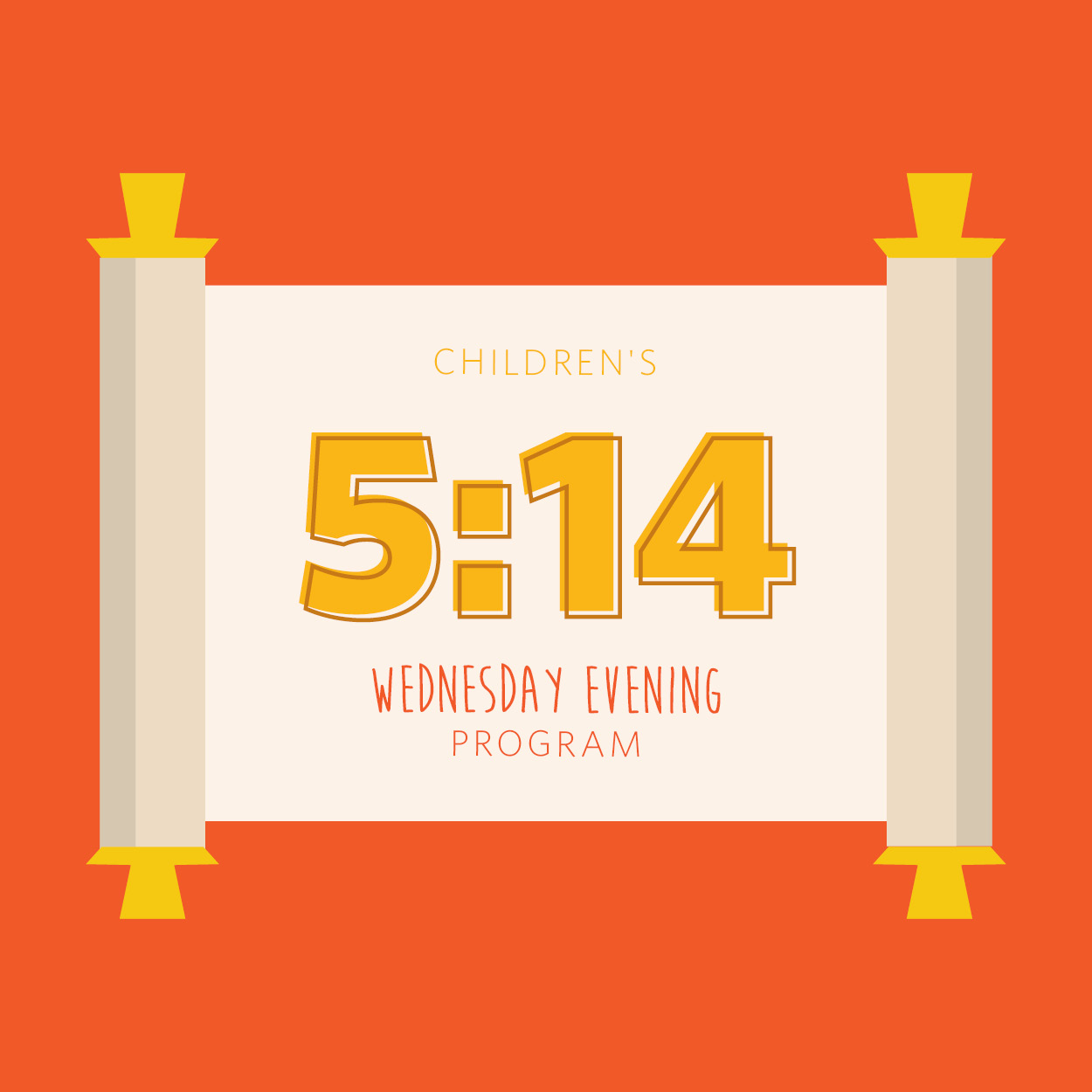 5:14 | Wednesday Evening Programming
"You are the light of the world. A city set in a hill cannot be hidden."- Matthew 5:14
Children's 5:14 Wednesday Night Programming welcomes all children in kindergarten through fourth grade to come explore their faith through fun activities and a special time in the Chapel. Families are invited and encouraged to begin the evening by eating dinner together in Hancock Hall prior to attending your 5:14 class. 5:14 teachers will pick up children from Hancock Hall at 5:30 p.m. If you arrive after 5:30 you will need to walk your child to their class.
If your child is participating in Children's Choir, they will be escorted to Hancock Hall following the conclusion of rehearsal each week. If they are in the Celebrate Choir (grades 2-4) that concludes at 5:30 p.m., they WILL be given time for dinner prior to joining their 5:14 class.
Each semester, children will be able to choose a 5:14 class to join for that session. Our Fall 2021 options are:
Creation Station- open to Kindergarten through grade 4, children who are enrolled in Creation Station will have the opportunity to use their imagination and talents to make something that they will bring home at the end of the session.
Activity Alley- open to Kindergarten through grade 4, children who are enrolled in Activity Alley will have the opportunity to learn and play new games each week.
At the conclusion of the class each night, children will be escorted to Little Fishers in the Chapel where they will hear their Bible lesson and participate in Mission projects. Dismissal will be at 6:30 p.m. in the Chapel.
5:14 classes will meet as part of regularly scheduled Wednesday Night Programming through November. Classes will conclude on November 17 to allow for rehearsals for Lessons and Carols and the Christmas Eve Service to take place in December.
Due to managing supplies, children will not be allowed to swap classes once the registration deadline has been met. The deadline to register is August 17.
Parents are invited and encouraged to join a small group while their children are participating in their 5:14 class! Nursery is available throughout the evening for children birth through age 2. Our three- and four-year-olds are invited to participate in JAM (Jesus and Me!)- a lesson and activities from 5:30-6:30 p.m. in room 141 while children in kindergarten through grade 4 participate in 5:14.
SCHEDULE
5:14 p.m. | Dinner with your family in Hancock Hall
5:30 p.m. | 5:14 Classes (drop off in Hancock Hall and children will be escorted to their 5:14 classes)
Creation Station
Activity Alley
6:10 p.m. | Little Fishers (children will be escorted directly to the Chapel with their 5:14 class)
6:30 p.m. | Dismissal (pick up in Chapel)
Parenting with Purpose
A Parenting with Purpose small group will take place from 5:30-6:30 p.m. alongside 5:14 programming. The group will meet in the John Wesley Parlor, on the Adult Education hall, each Wednesday night that 5:14 classes meet. Please join us as often as you can for an opportunity where parents can share and relate to one another's day-to-day parenting journey. Our first study will focus on the 5 Love Languages of Children and Teens, in preparation for Dr. Gary Chapman's visit to our church. Nursery care is available. Register to let us know you are coming!
Register for Parenting with Purpose Small Group
Men's Small Group
All men are invited to join our Men's Small Group on Wednesday nights, 5:30-6:30 p.m., beginning August 18 in room 226. This is an open group for men who are looking to connect and share in a group discussion format. These group discussions will be dedicated to talking about opportunities and challenges men face while growing in your relationship with Christ and with each other. We welcome men of all ages. Childcare will be available. If you are interested in joining this group, please register below. For more information, contact Cindy McKoy ( ).
Register for Men's Small Group
For more information, contact:
Megan Presley | Director of Children's Ministry |